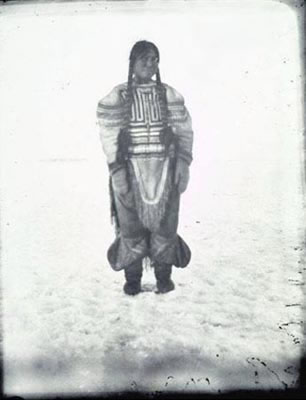 Aivilik Inuit woman, Shoofly [Nivisanaaq], Hudson Bay, Canada. Mystic Seaport Photography Department File ms_m169042.jpg
Aivilik Inuit woman, Shoofly [Nivisanaaq] Hudson Bay Canada
An Aivilik Inuit woman identified as Shoofly [Nivisanaaq] stands outdoors at Cape Fullerton, Hudson Bay, Canada, May 17, 1901. She wears a parka, or Amautiq, decorated with trade beads. Description notes - Title supplied by cataloger.
Information from original envelope identifies this as Photo #27, # 56. Beads were obtained from the whalers as trade goods. The Aivilik or Aivillingmiut are a group of Iglulik Inuit. These Inuit of the west coast region of Hudson Bay were closely associated with Captain George Comer and the American whalers for many years. Taken by Captain George Comer (1858-1937), a sealer and whaling captain from East Haddam. He went to sea while still in his teens and was later master of vessels from both New London and New Bedford. Comer participated in voyages involved in polar expeditions and was noted for his studies of Arctic peoples and their environment.

Date created1901 Format extent1 photograph : glassplate negative ; 4 x 5 in.
Accession number: 1963.1767.41

Evidence
Whalers who wintered over in the Arctic often took Inuit women as girlfriends. These women provided clothing and country food and companionship, often in exchange for trade items.
Perspective
Shoofly was made famous by Comer who took a great many photographs of the Inuit who whaled with him. As his girlfriend she received many gifts such as beads and was known for her exquisite sewing.
Significance
In the case where a man had two wives, he could share on with another hunter. This was thought to build a relationship between the hunters and to help secure the fortunes of the family group. In the case of whalers, there were definite economic advantages to sharing a wife with a whaler.